Do you want effortless DVD marathons and pro audio equipment listening features? Or even more reliable solutions to play on the internet and enjoy high-definition online video media contents?
Then you better try out these remarkable media centers for that ultimate entertainment right in your sofa. Being a "Potato Couch" can never be this good once get a hold of these applications.
Overview:
3. Plex
4. Media Portal
5. Hulu Desktop
6. Boxee
8. MythTV
9. Enna
10. Moovida
PC users like having Windows Media Center (WMC) inside their home theatre PC. Whether you may have a trip for; music videos, vintage classics, tv-series, and anything you may want to watch online. With this single software program you can almost watch everything.
WMC is among the most well-known media center because of Microsoft's advertising campaigns and combining endeavors. There's nothing overly technical about Windows Media Center, and it also plays nearly all media formats available. Windows Media Center is pre-equipped on all Windows 7 platforms, you just have to activate it.
RATE:  3/5
JRiver Media Center is a jukebox-style media center similar to that of Windows Media Player, or iTunes. Regardless, it is costumed with an optimized interface Theater View, which works perfectly along with your HDTV's.
The best thing about JRiver is it supports, including the sophisticated codecs from recorded clips, and it's also recognized to playback music with overall excellent audio quality. It even is sold with Netflix, Hulu and YouTube services integrated, so it will be suited to playing video recording content, too. It's a perfect match for you, particularly if you are an audiophile and enjoy playing lossless formats of audio like, FLAC, APE, ALAC, WM, and WAV files.
RATE:  3/5
3. Plex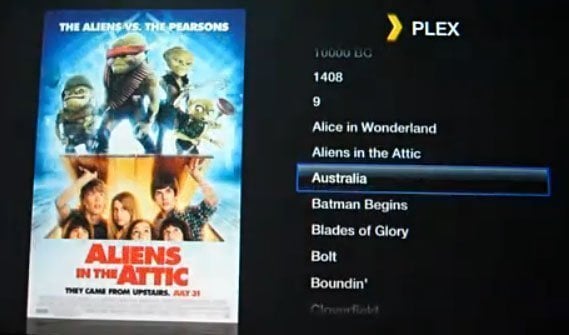 Plex Media Center is a media center substitute for Mac OS X which is integrated with iTunes; if you are being well experienced in using iTunes for syncing music and videos, then this application will be well suited for you. The interface is visually stunning and contains an excellent integration together with the iTunes media library.
RATE:  4/5
4. Media Portal
Another great media center with its own TV tunner support is Media Portal. Media Portal viably converts your PC to a highly advanced media center. It is a free application much like XBMC. The benefits of having this application is that you may turn your computer or laptop to a PVR (Personal Video Recorder). PVR is a program that will enable you to record videos to watch later on for your viewing pleasure.
RATE:  3/5
5. Hulu Desktop
Hulu Desktop has an outstanding interface that can easily navigate to your highly sought after video streams. Hulu has the latest shows, classic movies and a lot more out of its wide range of categories. Hulu Desktop works together with your WMC. Handheld controls, or Apple's handheld remote control, making it a breeze to chop the cable with this particular software. Just give it a shot if you haven't already! Hulu is only available on selected countries so far due to copyrights and legal terms.
RATE:  4/5
6. Boxee
Boxee brings the social side towards the media center. It offers some improvements like integrating video footage content plus a user recommendation system. You can share, recommend your movies with other users, you can also watch them both online. Boxee has now released some hardware around their platform referred to as the D-Link Boxee Box. In which it optimizes your viewing pleasure more by giving you direct access to their site. You could also watch box from your tablet PC's and smatphone capable devices.
RATE:  3/5
XBMC Media Center was originally designed like a media center interface for an XBOX gaming console. Today, they have evolved to be an authoritative media center for Mac OS X, Linux, and Windows which is able to play most available media file types.
XBMC is a well established and robust software for more additional advanced users which lots of people regards as being the best media center available. XBMC continues to be the inspiration for most alternative media centers. The consumer interface looks very elegant even with no customization.
RATE:  5/5
8. MythTV
MythTV is the PVR (Personal Video Recorder) for the Linux media center. You'll be able to record your shows and play it well whenever you want. It's a fantastic option to TiVo should you keep not having enough space for your Television shows.
This is designed for advanced users trying to create their apartment theater from and link their computer to their television. Once linked, you'll be able to record and capture live television programs stored unto your computer for later view. You will then be capable of playing them whenever you want. MythTV has several variations a variety of Linux distributions say for instance; Mythbuntu and MythDora.
RATE:  3/5
9. Enna
Enna  the Media Center for Linux may perhaps be the center of promising entertainment among several competitions. Enna is usually a GUI for your popular Linux distribution GeeXbox. It offers rather basic features, so don't over expect too much, yet it is transportable and works even by using an older computer. The advantage of Enna and GeeXbox is you can simply make use of them within the Live Linux CD to determine if you like it before installing it on a computer.
RATE:  3/5
10. Moovida
Moovida is a free media center much like Plex as well as several media centers probing TV to Internet acess. Moovida has two  distinct interfaces, they are called "Core" and "Immersed". The Core is for the desktop computer usage even though the Immersed is optimized for ones on the TV. The Immersed interface supplies a visually stunning 3D engine that may be worth looking over. A rich 3D interface lets you browse videos, letting you get an overview of what movies there are.
RATE:  4/5
Conclusion
As you can tell, there are many media centers software available that you checkout and watch full media all the time. Which media center is the greatest depends eventually on the needs for your media center. This only a brief review of all the media center available.